In today's competitive business landscape, companies of all sizes are constantly seeking ways to maximize value and minimize costs. One area where this is particularly important is in office furniture solutions. The right furniture can enhance productivity, improve employee satisfaction, and create a professional environment. However, finding affordable options without compromising on quality can be a challenge.
At Transfer Enterprises, Inc., we understand the unique needs of businesses when it comes to office furniture. Whether you're a small startup, a medium-sized business, or a large corporation, we have the expertise and resources to provide you with affordable solutions that meet your specific requirements.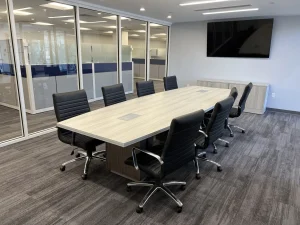 Quality is of utmost importance to us. We believe that office furniture should not only be functional but should also be built to last. That's why we partner with leading manufacturers who share our commitment to durability and craftsmanship. Our extensive range of products includes ergonomic chairs, height-adjustable desks, modular workstations, storage solutions, and much more.
One of the key factors that sets us apart is our ability to offer competitive pricing. We understand that budget constraints are a reality for many businesses, and we strive to provide cost-effective solutions without compromising on quality. By leveraging our industry connections and negotiating favorable deals, we are able to pass on the savings to our clients.
In addition to our competitive pricing, we also offer nationwide delivery services. No matter where your business is located, we can ensure that your furniture is delivered safely and on time. Our experienced logistics team takes care of every detail, from packaging to shipping, so you can focus on running your business.
At Transfer Enterprises, Inc., we believe in providing a personalized experience for our clients. We understand that every business has unique needs and preferences when it comes to office furniture. That's why we offer customization options to ensure that your furniture aligns with your brand and workspace requirements. From choosing the right colors and materials to incorporating your company logo, our team will work closely with you to create a tailored solution.
Customer satisfaction is at the core of our business. We take pride in delivering exceptional customer service and support. Our knowledgeable and friendly team is always available to assist you with any questions or concerns you may have. Whether you need help selecting the right furniture or require assistance with installation, we are here to make the process as seamless as possible.
In summary, at Transfer Enterprises, Inc., we understand the importance of affordable office furniture solutions for businesses of all sizes. We offer a wide range of quality products at competitive prices, with nationwide delivery services. Our commitment to customer satisfaction and personalized experiences sets us apart from the competition. Contact us today to learn more about how we can help you maximize value without compromising on quality.
Affordable Office Furniture Solutions: Maximizing Value Without Compromising Quality