On June 5th, 2019, the Greater Manchester Chamber of Commerce (GMCC) and more than 50 registered attendees gathered at Transfer Enterprises' showroom in Manchester, CT for the second scheduled SHEROES Women "inPower" workshop. This workshop focused on active shooter response training.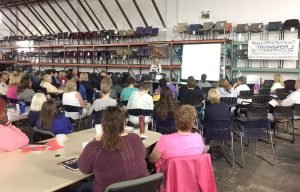 The SHEROES squad was developed by the GMCC in partnership with Bully Breed Training, company that trains law enforcement and qualified civilians in firearm and defense techniques.
The SHEROES workshops are a four-part series of two-hour interactive sessions presented by leaders in their fields. The workshops focus on a range of topics including: awareness of surroundings, security, confidence building, self defense, active shooter training, and critical bleeding control techniques in emergency situations. The workshops include co-training by the Manchester Fire-Rescue-EMS, the Ambulance Service of Manchester, and officers of the Manchester Police Department. The workshop series is being offered free of charge to all attendees who register in advance.
The main presenter for June 5th's "Active Shooter" workshop was Stephen Estes, owner of Bully Breed Training. Estes is a retired police lieutenant from the West Hartford Police Department. He currently instructs the West Hartford Police Department's Tactical Protective Medicine Branch. He also offers SWAT training instruction for multiple police departments. Estes teaches for the International Association of Law Enforcement and the Federal Flight Deck Officer Program. He is an EMT graduate and Wilderness First Responder.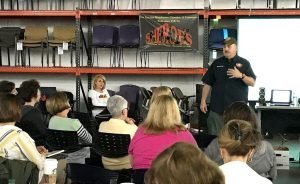 The primary topic discussed during the workshop was what to do in the event of an active shooter at work, in a public place, or at a large, crowded event. Attendees learned the "Run. Hide. Fight." method of response to an active shooter situation. Estes also advised on how to safely leave an active shooter situation.
The Greater Manchester Chamber of Commerce is a not-for-profit organization – 501(c)6, and is fully funded by members and sponsors. SHEROES was not originally budgeted for this fiscal year, however, through generous donations from companies within the community, the SHEROES program was successfully launched in 2019.
SHEROES sponsors include: Allstate Insurance, Ambulance Service of Manchester, Army Navy Club of Manchester, Bully Breed Training, Cabela's, ECHN-Manchester Memorial Hospital, Imageworks, MACC Charities, The Manchester American Legion, Professional Promotions, ShopRite of Manchester, Starbucks Coffee, Transfer Enterprises, INC., and Westover School of Defense.
The next SHEROES workshop, "Once the Shooting Stops – Critical Wound Care", will be hosted at the Ambulance Service of Manchester on Wednesday, September 4, 2019. For more information on the SHEROES program contact the Greater Manchester Chamber of Commerce at (860)646-2223 or visit their website at www.manchesterchamber.com.
SHEROES Workshop, June 5th, 2019