5 Factors to Consider When Selecting the Ideal Office Chair
Introduction:
As a business owner or manager, one of your top priorities is ensuring the comfort and productivity of your employees. And one crucial factor that directly affects their well-being and performance is the office chair they sit on for hours each day. With so many options available in the market, it can be overwhelming to find the perfect office chair. But fear not! In this blog post, we will guide you through the process of selecting the ideal office chair for your workspace.
1. Ergonomics:
When it comes to office chairs, ergonomics is key. A chair that promotes good posture and provides proper support can help prevent musculoskeletal issues and enhance productivity. Look for chairs with adjustable features, such as seat height, backrest angle, and armrest height. Additionally, consider chairs with lumbar support to maintain the natural curve of the spine.
2. Comfort:
Comfort is essential for employees to stay focused and engaged throughout the workday. Look for chairs with ample cushioning and breathable materials. Consider options with contoured seat and backrest designs that provide optimal comfort and reduce pressure points. Additionally, chairs with adjustable seat depth can accommodate individuals of different heights.
3. Durability:
Investing in a durable office chair ensures longevity and cost-effectiveness. Look for chairs made from high-quality materials, such as sturdy frames and resilient upholstery. Chairs with warranties are also an indication of their durability. Consider trusted brands like Herman Miller, Hon, SitOnIt, Steelcase, and Knoll, known for their high-quality and long-lasting products.
4. Style:
The office chair should not only be functional but also aesthetically pleasing. Consider the overall design of your workspace and choose a chair that complements the existing décor. Whether you prefer a sleek and modern look or a more traditional and classic style, there are plenty of options available to suit your preferences.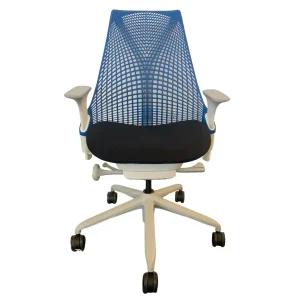 5. Budget:
Lastly, consider your budget when selecting an office chair. While it's important to invest in quality and comfort, it's also crucial to find a chair that fits within your financial constraints. Transfer Enterprises offers a wide variety of chairs from different price ranges, ensuring there is an option suitable for every budget.
Conclusion:
Choosing the perfect office chair is a crucial decision that can significantly impact the well-being and productivity of your employees. By considering the factors mentioned above, such as ergonomics, comfort, durability, style, and budget, you can find the ideal office chair that meets your requirements. At Transfer Enterprises, we offer a wide range of chairs from top brands, ensuring you can find the perfect fit for your workspace. Contact us today to explore our selection and provide your employees with the comfort and support they deserve.
How to Choose the Perfect Office Chair