Happy New Year! 2019 is here and ready to make a big impression with bold colors, funky prints and natural elements. Some of these office trends repeat from 2018, but a lot of new, innovative concepts are being introduced. Check out the first looks of commercial office trends for 2019 and get ready to set your office apart from the competition!
Natural Accents
Reducing carbon footprints and "going green" has been an important tenant of corporate responsibility. However, in 2019 we will see actual green offices as designers incorporate live plants into commercial spaces. Plants help to create a welcoming atmosphere that lends towards more natural and organic interactions. There have also been studies claiming that the presence of plants in the office can increase productivity, reduce stress, and lessen airborne illness. Extreme designs include whole walls of plant life. A less expensive and unimposing option would be to gift each employee a small plant for the new year. Plants are also sound absorbers, so if you are looking to go with an open office concept, but are concerned about sound, you can combine these two trends for a winning design.
Geometric Patterns
Stylish patterns are a great way to blend design trends and introduce color to the office. For a few years, whimsical patterns took center stage, as designers backed off from firm lines. 2019 is the reintroduction of geometric prints. Blocked rectangular stripes, and hypnotic repetitive triangles are taking over fabric swatch books. Take a chance with a patterned desk chair seat. The unexpected pattern is sure to win over your employees.
Bold, Rich Colors
Break up the monotony of every day office life with pops of deep, rich colors. My emerging favorites are emerald green, royal blue, and violet. Black is also making a bold return as a primary color. Don't be surprised to see accents walls in black, dark ebony cabinets, and black patterned flooring. This is the year to reupholster those worn desk chairs and reception furniture. Choose bold colors and rich fabrics, like velvet, to elevate the overall design of your office.
Warm Backdrops
Last year we saw a lot of greys and cool tones on office walls. 2019 is moving towards warmer neutrals. That isn't to say that grey is a color of times past, but warmer tones can be more complimentary to bold, rich accents. This trend is more of a continuation from the previous trend, but color matching is essential. The number one question I am asked on a job site is, "Do these colors go together?"
Whenever you are redesigning a space, always create a color storyboard. A designer's eye may offer helpful feedback.
Office Wellness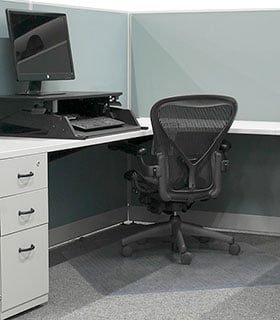 Living a healthy lifestyle doesn't just happen at home. Employers are pushing their staff to make healthier choices through various fitness challenges and team initiatives. Ergonomic office furniture has been selling at a higher rate than ever before due to the health benefits associated with these pieces. Sit-stand desks promote heart health, ergonomic chairs alleviate back strain, keyboard trays prevent wrist issues, and monitor arms reduce slouching. Take some of the pressure off HR by replacing or reinventing key pieces of office furniture.
Many office furniture fixtures can be adapted to be ergonomic. Check with refurbishers and preowned furniture dealers before completely replacing your office furniture. They will be able to advise whether your existing office furniture can be converted to ergonomic.
Open Workspaces
The concept of open work areas was a prevalent 2018 office design trend and is still holding strong this year. Despite concerns about privacy, sound amplification, and clutter, open work areas have taken the commercial design world by storm. The most popular configuration is the benching system, a long row of desks with low glass, if any dividers, in-between. The rise of co-working areas has pioneered this office furniture trend and will continue to so.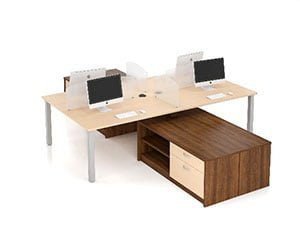 However, much of the open workspace's popularity has stemmed from the better work culture it promotes. Removing high cubicle walls and private office spaces, increases collaboration and reduces workplace anonymity. Each industry has different expectations and office furniture needs. If privacy and sound reduction are a priority for your office, there are design elements that can be added to your office furniture to reduce sound and create enclosures, without reverting to walls and panels. Speak with your commercial designer about the needs of your business to mesh open workspaces with functionality.
---
Alyssa Jones is a commercial designer and showroom floor manager for Transfer Enterprises, Inc. Total Office Furniture Solutions in Manchester, CT. She can be reached at 860-645-9090 ex.119 or ajones@tedesk.com
2019 Office Design Trends