Ready to hire on more staff? Expanding to a new office space? Ordering cubicles can be a stressful and confusing process. This step-by-step guide offers easy to follow directions to starting an office space plan design. Avoid common mistakes and learn ways to save money and stay within budget. This simple process to cubicle ordering and design will guide you towards a functional, stylish office that all your employees will love to work in.
Step 1: Measure Your Space
It seems simple but taking accurate measurements of the area you want to place cubicles in is a crucial step in the cubicle design process. Draw a map of the room based off the room dimensions. Important features to take note of are doors, windows, radiators, power/data supply, columns, wall cutouts, and floor trim. In your drawing, indicate whether doors open in or out and to the left or to the right. Highlight emergency exits. These must be accessible to all employees and may affect your layout in the following steps. Next, jot down the location of the windows and height of the windows from the floor. Blocking windows will prevent natural light from coming into the room and can make the space feel smaller than it really is, especially once cubicle walls go up. Furthermore, panel walls are generally made of fabric; therefore, they mu
st be at least 8 inches from a heat source. This includes enclosed radiators, so make sure to include those in your floor drawing. Electricity is easily added and moved by licensed electricians, however, it is always easiest and most cost effective to utilize existing locations. Add notes of where power and data outlets are around the room. Finally, check the walls for any extrusions, including baseboards and carpet trim. While the width of these room details are usually minimal, many cubicle designs come down to a few inches. A project can take a severely poor turn if any dimension is inaccurate. The more information you can include in your drawing of the room, the better your project will come out.
Step 2: Scale Your Drawing
There are a multitude of drawing programs available to create a scaled image of your office space. If you do not have access to any of these programs, the alternatives are to hand-draw the space or to call a commercial office furniture or commercial office design company. At Transfer Enterprises, space planning and site drawings are done at no cost. Utilizing a professional company with expertise can be the best solution to save time and receive a perfectly proportioned office design plan. If your cubicle project involves more than 10 workstations or space over 5,000 square feet, a computer program is the
most ideal way to generate a scaled drawing.
To scale a drawing by hand you will need a ruler, graph paper, a pencil and a black marker. Choose the scale you want to represent based on the squares in the graph paper. For example, 1 square = 1 foot. Count out the squares to match the dimensions of your office space and outline in pencil. Now add your doors, windows, heat sources and electrical outlets. Once all the details of your office area are on the drawing, go over your pencil lines with the marker to better define the parameters of your space. Make a few photocopies and save the original to save time recreating the fundamentals of the room if you make a mistake later on.
Next, take unused graph paper and scale out cubicles. For example, if your drawing scale is 1 square = 1 foot and if you want to build 6'x6' workstations, cut out squares that are 6×6. Cut out an equal number of squares to the number of workstations you want to fit in the room. On either side of each square, create a "left" and a "right" option. The number one mistake made when creating an office cubicle design layout is forgetting to allot enough room for entry ways. Drawing this on your mock workstation cutout will serve as a reminder to leave room for an entry and an exit out of each desk space. Walkways should be at least 36"W and 42"W for wheelchair accessibility. Begin moving your cutouts around the drawing to see which layouts will work within your office space for the size workstations and number of employees you want to work out of the room.
It is important not to use every inch of available space when placing your cubicles. The second most common mistake in commercial cubicle designing is overlooking panel creep. When a furniture manufacturer or office furniture dealer advertises a 6'x6' cubicles, they are referencing the interior area of a cubicle. The workable space is 6'x6', however, each panel is an additional 1"-2.5". An example of a common mistake is to spec out three 6'x6' cubicles along an 18' wall. The actual span of 3, side-by-side 6'x6' cubicles is 18'6", therefore three 6' wide cubicles do not actually fit within an 18' area. Remember, cubicles that are attached in rows will share cubicle walls.
Once you decide on a layout, either glue, tape, or outline the cubicles into place on your scaled office floor plan. You will need to reference your space plan when ordering and shopping.
Step 3: Create a Cubicle "Wish List"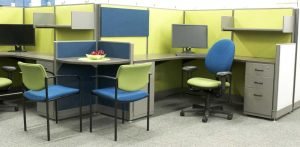 Now that your space plan is complete, you know the desired sized cubicle you are looking for; however, the office furniture dealer will have additional questions. It is best to meet with decision makers at your company to work out these details prior to receiving a cubicle quote.
Height
This is where the window location from "Step 1" becomes important. Cubicles may need to go against a wall of windows in order to maximize your office space. Make a note of how high you want the panels by the windows to be and how many workstations will be affected. For example, if your windows are 40" off the ground, you may want 38"H or 42"H panels along the window areas. You can mix heights throughout the design, so you don't have to use low height cubicle walls everywhere, however, it is important to mention all the heights you are looking for to your commercial office furniture sales representative. Panel heights range from 35"H up to 85" H. In smaller spaces, lower height panels are usually a better choice to prevent the room from feeling cramped. However, cubicle panels can serve as great sound insulators, so if the employees working in the stations use the phone frequently, it may be wise to choose a minimum height of 53". We will go into storage options next, but it is important to note that overhead storage can only be used on panels 65" or higher. If you want to offer employees a lot of storage space, the high panels may be your best option. Finally, in some states, companies can receive a credit or reduced rate from electric companies if their cubicle panels are 48"H or lower. If saving money is top priority for your company, call your electricity service provider to inquire about this incentive.
Storage
Regardless of the size of the cubicle, most workstations have some sort of pedestal storage. Also referred to as file drawers, you have the option to choose between two or three drawer pedestals. Cubicles 6'x6' or larger typically have two pedestals (usually one, two-drawer and one, three-drawer).
Cubicles smaller than 6'x6' typically have one pedestal. Cubicle walls that are a minimum of 42"H can also have half-height shelves. These are open and useful for books and binders. Cubicle walls that are 65" or higher support binder bins. These are like shelves but are fully enclosed and sit at the very top of the panel. Additional storage options include coat hooks, storage towers, and lateral file drawers. The two latter options only apply to stations that are at least 7'x7'.
Power
Nowadays, every employee needs access to electricity and internet. If your office design has cubicles running along walls and there are outlets available for each, you can simply buy power strips. Thread the cord through the panel to connect to the power source. The power strip will rest on the floor beneath the work surface of each cubicle. Tell your office furniture sales representative or commercial designer that you will need panels with removable kick plates. This metal piece at the base is what you will thread the power strip cord through.
The second option is to power some of the panels which allows employees to plug into the cubicle walls instead of a power strip or outlet. If you wish to go this route, the workstations must be ordered as powered. A commercial office furniture sales representative can guide you regarding specific parts, pieces, and panel counts, however, disclose the need for power ahead of time. In order to power some of the panel walls, one panel must be against a wall outlet or a power pole needs to be installed. The power pole attaches to the panel and the ceiling. The power cords are run down from the ceiling into the panel. A licensed electrician needs to be onsite the day of the cubicle installation to connect the power. Don't forget to budget for this additional service cost.
Glass
It has become increasingly popular to add glass to cubicles. More natural light can filter through the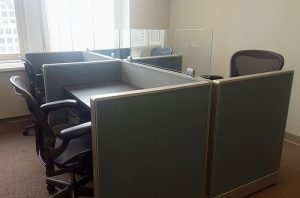 room. It can also act as an additional sound barrier. Glass can be embedded in the panel or stacked on top of the panels. Glass is generally 12" – 24" high. If you choose to stack the glass on to panels, account for that in the overall height you are looking to achieve per cubicle wall. For example, if a panel is 53" H and has 12" of glass added to it, the overall height of each cubicle wall will now be 65" H. Glass is available in clear, tinted and frosted.
Step 4: The Real Cost of Cubicles
The average price of a brand-new, 6'x6' office cubicle ranges from $2000 – $3500 depending on the manufacturer and finishes selected. A more cost-effective cubicle purchasing option is to shop pre-owned and refurbished office furniture. The price of a pre-owned, 6'x6' cubicle ranges from $599 – $899. Ensure that any used cubicles you purchase have been properly steam cleaned and sanitized. While the cost is much lower, you will be restricted to available, in-stock fabric, paint, and laminate surface finishes when shopping used office furniture.. A refurbished 6'x6' cubicle ranges from $999 – $1699. Refurbished cubicles have new fabric and paint that can usually be customized to your liking. Browsing through online options is a great place to start to gauge the cubicle look and style that you prefer. Cubicles can be complicated to order and to guarantee you get all the components you want, it is recommended you speak to an office furniture sales representative directly. If possible, visit the office furniture dealer's showroom to ensure you are ordering exactly what you want. Quality can severely vary between workstation systems. Before accepting the lowest quote, ask to see a sample or mock-up of the cubicle. Finally, ask the furniture dealer to provide installation costs or recommend a certified cubicle installer. Assembling cubicles can take hours, so you may want to consider budgeting for this service.
Alyssa Jones is a commercial designer and showroom floor manager for Transfer Enterprises, Inc. Total Office Furniture Solutions in Manchester, CT. She can be reached at 860-645-9090 ex.119 or ajones@tedesk.com
A Step-By-Step Guide to Cubicle Design